Grand Traverse Tennis Camp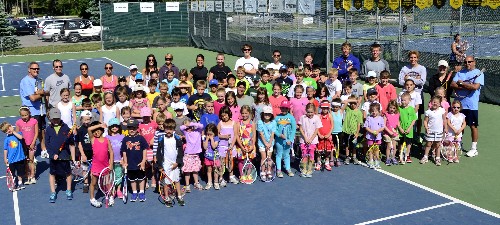 Ready, set, play!
Join us this summer for our 48th year of summer tennis! Grand Traverse Tennis Camps is proud to have Coldwell Banker Schmidt Family of Companies and The Larkin Group as our primary sponsors.
Also sponsored in part by Burger King of Traverse City.

Founder/Director
Larry Nykerk, USPTR, is retired from head Varsity coaching for TC Central HS Girls and Boys teams and is Grand Traverse Tennis Camps Founder and Director. He was chosen as Michigan High School Coach of the year 3 times ,is in the Michigan High School Tennis Coaches "Hall of Fame" and was inducted into the Michigan High School Coaches Hall of Fame in 2018. In 2014 Larry recorded his 1000th win. In his 40+ years of coaching tennis at TC Central, Larry's teams have won 35 Regional Titles, and have had 50 "Top 10" finishes at States. He has coached 25 State Champions, 72 All-Staters and has had 59 players join the prestigious "Century Club" (over 100 individual wins). Grand Traverse Tennis Camps has been the breeding ground that has produced some of the best players in the state!
Awesome Instructors!
We take great care in choosing our tennis coaches and instructors. All are area tennis coaches and/or top tennis players in High School and College. Their enthusiasm and friendliness have become a trademark of our Traverse City tennis camp. They love their work and serve as great role models for young people. This year's tennis coaches and instructors are: Larry Nykerk, Cliff Girard, Lisa Seymour, Ivy, Phoebe & Wren Walker, Isabella Fochtman, Natalie Bourdo, Carly Galsterer and Casey Christenson
Facilities
The courts at Traverse City Central on Eastern Avenue
The Tennis Center at Traverse City Central High School complete with: concession, team room, bathrooms and plenty of shade!
In Case of Rain
IN CASE OF RAIN, you may makeup your missed class during another session or a different time in the same session. The High School and Jr. Excellence programs will schedule outdoor make-ups as needed. Adult tennis classes are able to make up their missed tennis class at a later date.
Privates or Semi-Privates
Arrange your own group tennis lesson and time. Contact Michigan Hall of Fame tennis coach Larry Nykerk at 231.218.9608. Rate varies based on number of participants.
Sponsors
We are proud to have Coldwell Banker Schmidt Family of Companies , State Savings Bank and The Larkin Group as Primary Sponsors, other sponsors include Burger King of Traverse City.
NOT SPONSORED BY TCAPS